Up:
Smoky Home
Robson Charger K1




Robson has graciously allowed me the privilege of using their newest creek boat, the Charger for the Smoky River 2004, Over the Divide! expedition. I have been putting the boat through it's paces and have come up with some insight as to how this boat performs.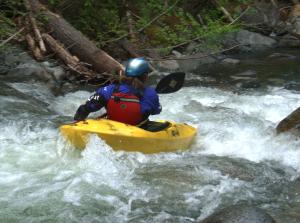 I am 6'1'' and weigh 185 lbs. When I first sat in the Charger I was immediately pleased with the stock outfitting. The Logic-Pro seat was comfortable. The camming system for the back band was also a very welcome touch. It allowed me the versatility of loosening up the system for a little added comfort or really welding myself into the boat when things got crazy and I felt I needed that added little bit of boat control. At 8'3'' and 83 gallons this is one of the biggest boats on the market. With it's size comes something fairly obvious, weight . The Charger is heavy, 47 lbs heavy.
However in most situations I found it easy to manoeuvre. It is fast and spins well. The generous rocker in the stern lets it boof with very little effort. I found it difficult to hold a line on occasion, especially when you are paddling slowly. This boat wants to be driven hard. If you put this boat on edge it has amazing secondary stability and likes to go fast. It is quite clear that this boat is at home on steep, bigger water. It will manage the bony steeps but ocassionaly grab on rocks due to the vertical sides. But when it comes to pushy bigwater it really shows its strengths. The cambered front deck allows for stable re-surfacing when you do go deep. It punches holes nicely and there is no way this stern will ever grab.
When it gets gnarly, it is nice to know about the safety features. The cockpit is big and easy to exit and the blunt nose and high volume in the bow reduce pin potential.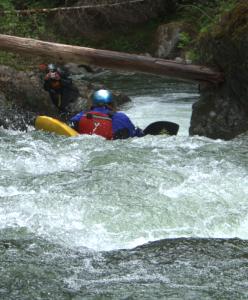 Here are some good news for those people who like to go on multiday expeditions. First of all, I already said this, the boat has the volume needed for longer trips. There is enough room in front of the bulk head to store those heavy items you don't need every day to get the trim right. Also, the backband allows easy access to the stern of the boat which makes loading it really easy. The openings are big enough to easily stuff your gear in there.
All of this and coupled with tough PE superlinear plastic and an enormous cockpit you have an excellent choice for multiday whitewater trips or just paddling down your favourite local creek.


Up: Smoky Home
---
© copyright 2004 Pete Smolders